Completing the Circle with IndigiExchange, an NMCC Marketplace Site
Way back in early March 2020, when we used to gather together on a daily basis in our Albuquerque office, the idea for IndigiExchange came into being. Our Program Manager, Jake Foreman, and I, sat and talked about the building COVID-19 crisis and wondered how we could help makers. We were particularly concerned about those that rely on gatherings, shows, powwows, and events, to generate income for their business and families. According to a Native Business Coalition survey administered in April, 71% of Native business owners said their business was their sole source of income. Of those that responded, they predicted that their business would experience a decline of 80% of their typical income, if not more. Confirming this data, was a recent study conducted by First People's Fund and reported on by Native Business Magazine. That study stated that 97% of artists and work by culture bearers are experiencing a sizable drop in income with little relief in sight. What could we produce or provide, that in some small way could give these makers an opportunity to continue to sell their goods and continue to work in lieu of everything being cancelled? 
Many of those we work with do not have a website or a business social media site. As our Financial & Business Basics (FBB) curriculum has developed over the past three years, we've recognized the need to include digital literacy content. At the end of February, at our last workshop at the Indian Pueblo Cultural Center, we added an option for individuals to create their own site, thanks to our partnership with Square and Weebly  So, naturally our solution joined these two ideas. Introducing IndigiExchange, an NMCC pilot program, where our participants and talented artists and makers can feature their products and learn in the process.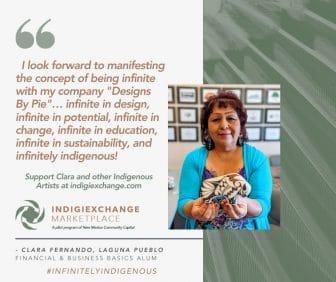 IndigiExchange is not just another platform for listing authentic Native-made goods, but an online classroom and showcase for lifting up those who have the skills and craft, and simply need an outlet where they can sell their products. We support them by providing guidance on invoicing, pricing their products, and negotiating rates. We also support them by providing guidance on their own social media sites. Of course, we appreciate others for providing an internet community and marketplace for Native-made products, although that's not our only mission. We believe in supporting small businesses and sites like Beyond Buckskin, Indian Pueblo Store, and Pueblo Direct, among others, that do a good job of showcasing artisans. As you consider supporting Native-owned small businesses, include their sites, in addition to IndigiExchange, as one of your destinations. We've also seen some amazing companies graduate from our Native Entrepreneur in Residence program, and most of them are online. Check out our list of grads and companies here. 
At NMCC our core strength and competency revolves around mentorship and technical assistance, taught in a way that is culturally respectful and supportive. We are very proud that we teach and employ systems that are regenerative. How could we make this an indigenous system or process? How could we teach, while supporting people to earn money? This quickly became a social enterprise endeavor and we're happy to kick off this site in response to reduced selling opportunities for micro and small businesses and talented makers, and the shifting conditions that helped fuel this idea.
The site was envisioned by our Digital Marketing Manager, Kalika Davis. Besides managing all digital content for New Mexico Community Capital, she is also an entrepreneur, and runs her own holistic hair salon, Salon Tallou. She is also a mother, wife, and one of the co-founders of Native Women Lead. Our Program Manager, Jake Foreman, also contributed to the vision and the work to get this site off the ground.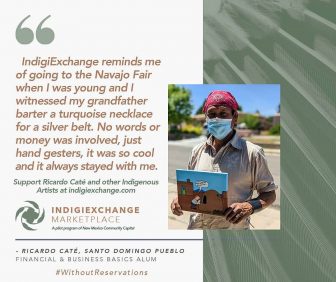 IndigiExchange came as a response to the great need in our communities. As it is a pilot program, we'll continue to build on the site and add more makers over the course of the year. We feature a revolving inventory of goods and products from Indigenous entrepreneurs that have gone through our programs. Our profit is divided between a small grant fund that gets distributed among our makers, and the rest supports an investment in buying more products from our large group. Maybe you are looking ahead to your relative's birthday in a month. Or maybe you want to send a small gift to someone that supported you over a hurdle you were facing. Maybe you just want to share and support the amazing and fierce, multi-generational talent that an Indigenous artist has created. Whatever it is, continue to support the movement to buy from small businesses at this time. Support Indigenous business. Support POC-owned businesses. Support traditions and skills that have been passed down from many generations. Be a part of the wave that shifts the power and dollars to local communities.