Equality Can't Wait: The Future is Indigenous Women
If you've visited our website or any of our social media pages within the past month or so, you might have heard that New Mexico Community Capital was named as a Top 10 Finalist, out of 550 total applications, in the Equality Can't Wait Challenge, a sweeping initiative to support gender equality in the United States. In our proposal, The Future is Indigenous Womxn, we partner with another nonprofit organization, Native Women Lead (NWL), and with the support of Nusenda Credit Union. 
The funders of the challenge recognize that real investment is needed to start to come close to leveling the field for women in business, and they're investing $40 million to support the vision. Pivotal Ventures, Melinda Gates incubation company, is joined by Charles and Lynn Schusterman's Family Foundation and Mackenzie Scott, in awarding $10MM to each of the top three winners of the challenge. The other seven finalists will share in the remaining $10 million dollar prize. Lever for Change is running the challenge on behalf of the funders.
To say this would be groundbreaking for us if we won, would be an accurate statement. To say we are absolutely beside ourselves imagining that this can be operational starting later this summer, is also true. It would also be a massive boost to the Indigenous communities that would benefit from this work. While the proposal lays out a system that supports Indigenous womxn business owners, the effects will reach their families, communities, and it will also work to make change in the larger system, one that moves at a glacial pace, especially for Indigenous people. 
Our proposal covers four areas: technical assistance, elevating and accelerating business leaders, a suite of lending and investment products, and systems change work that will hopefully support more investment for Native-owned companies. Recently, our organization joined Native Women Lead's, "Transformation Thursday" event for two weeks in a row and presented our solution for feedback and comments. What we heard back was resoundingly affirmative and clear–this work is needed and will benefit our communities. We also used some of the feedback to refine our proposal, and that will be added as we complete our final prospectus to the funders, due on May 21st. That feedback represents the power of our community, one that raises and works to better all of us, not just the entrepreneurs or business owners.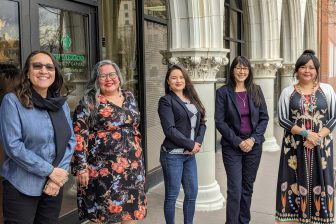 New Mexico Community Capital and Native Women Lead have a deep and meaningful partnership already. Native Women Lead was co-founded by eight business owners, six of which graduated from NMCC's, Native Entrepreneur in Residence (NEIR) program. While their time at NMCC may have initially brought them all together, they've taken flight and soared from the beginning. One of their co-founders has co-facilitated our Community of Practice and another is now our Marketing Manager. Another has presented to graduates on the art of the pitch. There are many examples like these. We've spent a lot of time together and recognize that our collaborative efforts together are impactful.
As we get closer to submitting our final prospectus which will help determine the winners of Equality Can't Wait, we're getting more excited about our plan and work during the next five years. Collectively, we have an incredible team, laser sharp focus, and a determination to make change in the current systems. As we get closer, we'll walk forward together doing what we do best, and pray that we can see this vision take place. With the support of those that came before us, we will work as hard as we can to usher in, The Future is Indigenous Womxn.   
(Image from L to R: Liz Gamboa, Vanessa Roanhorse, Alicia Ortega, Kalika Davis, Jaime Gloshay)